Powered by Max Banner Ads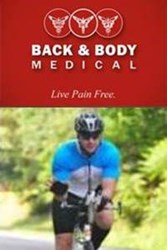 New York, NY (PRWEB) July 24, 2013
The scenery in and around Syracuse, NY on June 23 was beautiful, but the race itself was demanding. The triathlon included a 1.2-mile single-loop swim, a 56-mile bike course and a 13.1-mile run. Of the 2,000 plus competitors at the starting line, only about 1,300 finished. According to Dr. David Perna, a NYC chiropractor and Director of Complimentary Alternative Medicine at Back and Body Medical in Midtown Manhattan, It was the hardest thing I ever did in my life. So what motivated Dr. Perna to take on this challenge? Id seen events like this from the sidelines, treating triathletes using Active Release Technique (ART) and Graston Technique at last years New York City Ironman 140.6. Given my own experience swimming, road racing and running, this Ironman seemed like a great fit.
When it comes to succeeding in an Ironman triathlon, preparation is key. For Dr. Perna, this meant intensive training for six monthsearly morning biking, running in Central Park and swimming in the evenings. But it also meant keeping his body in condition to train consistently over that period despite all the wear and tear. While he suffered early on with plantar fasciitis and lower back pain, timely treatment at Back and Body Medical gave him an edge. Back and Body Medical experts applied ART and Graston as well as decompression therapy and regular adjustments throughout my training. Addressing health issues as soon as they appear is very important when preparing for an event of this type. Without effective treatment, injuries and pain can compromise an athletes training program and prevent them from building the endurance and stamina theyll need to be successful. Dr. Perna says he saw this risk first-hand. In my case, early treatment made a big difference in allowing my training to continue with decreased or eliminated pain and discomfort. With race-day temperatures in the mid-90s, finishing the event may actually have been impossible for me if I hadn't been able to train consistently.
Theres no doubt that Dr. Perna benefited from the experience of his patients as he prepared for his own triathlon. While training for a marathon may only require three months, intensive triathlon training needs to begin at least six months out. You should expect some minor pain during the process, but it shouldn't be present all the time or continue much beyond the training day. If you ignore pain or try to work around injuries too far into your training cycle, youll lose training time and effectiveness, and competition may not be possible. Youre also more likely to suffer from more serious injuries and have longer recovery times. He believes this is exactly why so many of the triathletes and runners he sees at Back and Body Medical benefit from ART and the Graston Technique during their training. It reduces soft tissue pain and aids in preventing injuries caused by overuse and speed training.